Wat is een Myers Cocktail of Intraveneuze Vitamine Therapie?
Intraveneuze vitamine therapie is de intraveneuze toediening (direct in de bloedbaan via een dun infuusnaaldje) van vitaminen, mineralen, aminozuren en antioxidanten aan de patiënt.
Het doel van deze behandeling is om deze stoffen in een
hoge concentratie

aan de cellen van het lichaam te geven op een manier dat de maag en darmen worden overgeslagen.
Alle vitaminen en mineralen die
via de orale route

(dus normaal geslikt worden) moeten eerst worden opgenomen in de dunne darm waarna ze worden gefilterd in de lever. Dit proces heet het

"first-pass-effect"

en kan de vitaminen en mineralen minder effectief of zelfs ineffectief maken.
Het is onmogelijk om met orale supplementen de hoge hoeveelheden te bereiken die wij veilig intraveneus kunnen geven.

Als grote hoeveelheden vitamines en mineralen oraal ingenomen worden resulteert die vaak in maagklachten en diarree. Ongeveer 10-25% van wat ingenomen is komt uiteindelijk op de bestemming aan. Met de intraveneuze behandeling omzeilen we de darmen en de lever.

Zo vermijden we problemen met slechte opname en kunnen we een hoge dosis veilig en effectief geven.
Vitamines en mineralen zijn het fundament die het lichaam nodig heeft om optimaal te functioneren.

De ervaring is dat een vitamine- of mineraaltekort veel chronische aandoeningen kan

verergeren

of zelfs

veroorzaken

. Deze ervaring komt voort uit jarenlange observaties van artsen wereldwijd die zich op deze behandelingen hebben toegelegd.
We zien een
grote behoefte

voor deze aanvullingen bij patiënten die

slecht genezen, een slecht dieet hebben, veel stress hebben, slecht slapen, roken, weinig lichaamsbeweging hebben of juist lichamelijk uitgeput zijn door te veel sporten.
Patiënten met
moeilijkheden om voeding te verteren

; een slechte pH in de maag hebben, "leaky gut" syndroom of een maag- of darmoperatie hebben gehad hebben per definitie een slechte opname van micronutriënten. Dit kan leiden tot een

lusteloosheid, energietekorten, bloedarmoede, spierkrampen, om maar een paar symptomen te noemen.
Patiënten met een maagverkleining zijn individuen die de grootste baat hebben van intraveneuze toediening van vitaminen en mineralen.

Met een maagverkleining wordt een belangrijk stuk van het maag- darmstelsel die vitamines opneemt overgeslagen. B-vitamines, ijzer en mineraaltekorten zijn een van de meest voorkomende verschijnselen na een maagverkleining.  

Levenslange intraveneuze aanvulling is noodzakelijk.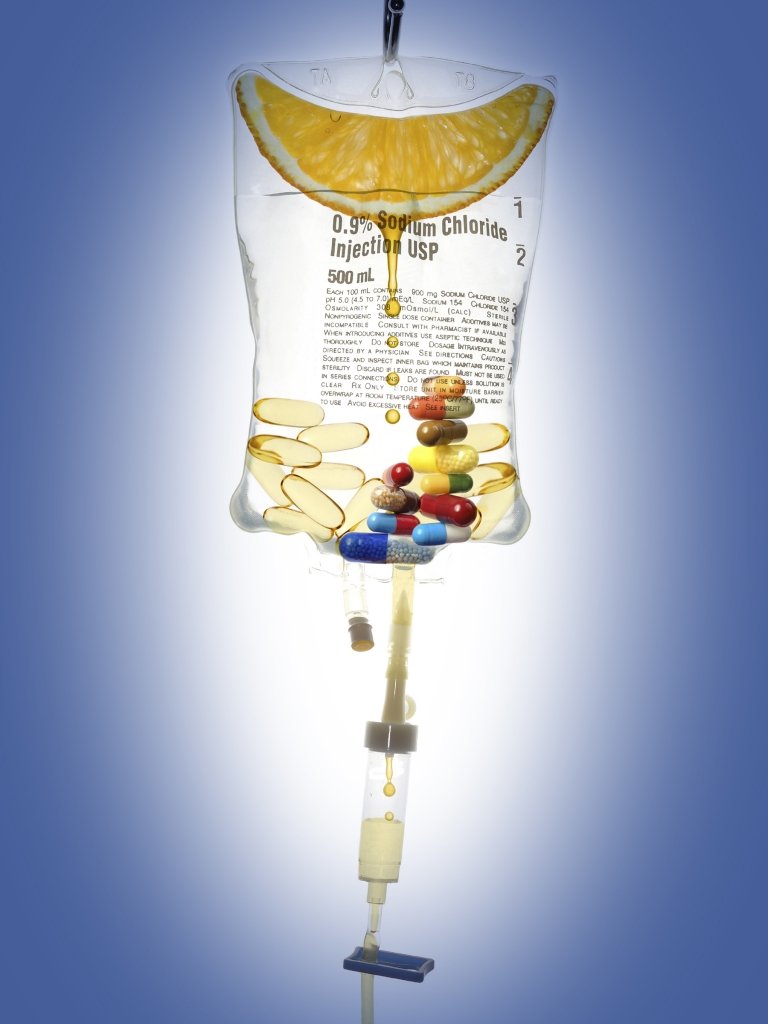 De Myers Cocktail:
In de jaren '60 combineerde Dr. John Myers, internist in het Johns Hopkins Hospital in Baltimore, voor het eerst een aantal vitaminen en mineralen in een "cocktail".
De Myers Cocktail, zoals wij hem ook aanbieden bestaat uit:
Magnesium
Calcium
Vitamine C
Vitamine B-complex
Vitamine B6
Vitamine B12
Deze mix is een klassieker geworden omdat de vitaminen en mineralen erg veilig zijn om toe te dienen en voor veel verschillende doeleinden effectief kunnen zijn.
Prijs van de Myers Cocktail is €150
De Uitgebreide Myers Cocktail:

Het verschil van de Myers Cocktail zijn hogere doseringen van:
Vitamine C
Vitamine B-complex
Vitamine B6
Vitamine B12
En de toevoeging van:
Foliumzuur
Selenium
Arginine
Zink
Glutathion – het sterkte anti-oxidant van ons lichaam
Prijs van de Uitgebreide Myers Cocktail is €200
Glutathion

: het "Master Anti-Oxidant" is een zeer belangrijk molecuul wat in elke menselijke cel te vinden is. Het werkt als de belangrijkste intracellulaire beschermer tegen oxidatieve stress. Glutathion is aan aminozuur die beschermend werkt voor belangrijke componenten in de cel door "Reactive Oxygen Species" (ROS) zoals vrije radicalen, peroxiden en zware metalen.


Glutathion is het meest krachtige antioxidant in het lichaam die alle cellen beschermt tegen oxidatie.

Omdat deze functie zo belangrijk is, is een daling van de glutathion niet wenselijk! Bijna elke chronische aandoening is gelinkt aan een laag glutathion in de cel! Dit betekent niet een direct causaal verband maar dit geeft wel het belang van glutathion aan.
Glutathion beschermt de huid, lens, cornea en netvlies

tegen stralingsschade

en helpt detoxificatie-pathways in de lever, nieren, longen en andere organen om de dagelijkse blootstelling aan toxines te verwerken.
Glutathion heeft een slechte orale absorptie en is snel afgebroken door enzymen in het spijsverteringskanaal. Intraveneuze toediening van glutathion is superieur.
Toediening:
De Myers Cocktail (ook Uitgebreide Myers Cocktail) wordt
in een periode van 10 minuten langzaam intraveneus toegediend door middel van een "IV-Push"

, dat wilt zeggen een langzame injectie via het infuusnaaldje. Op deze manier bereiken we hoge concentraties in het bloed en in de extra-cellulaire matrix (de bindweefsel die alle cellen omringt) die NIET bereikbaar zijn orale suppletie.


De twee meest voorkomende bijwerkingen tijdens de behandeling zijn:

smaak van vitamines die kan opkomen in de mond van binnen uit en een mild gevoel van warmte die vaak begint in de keel en naar het hoofd of buik kan trekken (bekende flushing effect van Magnesium). Beide bijwerkingen zijn 100% veilig en normaal en trekken tijdens de behandeling weer weg.

Wereldwijd worden jaarlijks miljoenen intraveneuze vitamine behandelingen veilig uitgevoerd.
We raden de meeste patiënten aan om te starten met een serie van 3 behandelingen met tussenpoos van een à vier weken. Ons advies wordt altijd op u individueel afgestemd dus hier kan variatie in zitten.
Op deze manier kunnen op een korte termijn de volle voordelen geven van een degelijke aanvulling.
Enkele voorbeelden van aandoeningen die regelmatig verbeteren met behandeling in onze praktijk:
Vermoeidheid, migraines, fibromyalgie, depressie, spierspasmes of spontane spierkrampen, slecht slapen, STRESS! , kwaliteit van leven. We zien in de praktijk vaak een verbetering van de energie en gemoedstoestand).
Atletisch vermogen, voor sneller herstel, betere prestaties en uithoudingsvermogen, of als athleten overtraind raken kan een serie Myers Cocktails het lichaam een duw in de rug geven om in een korte tijd weer fit te krijgen.
We zien dat acute virale aandoeningen zoals een verkoudheid veel sneller kunnen opknappen en chronische infecties kunnen verbeteren.
We behandelen veel mensen met rug- en gewrichtsklachten. Veel mensen genezen zoals we verwachten in een aantal weken / maanden van acute of chronische musculoskeletale aandoeningen, maar niet iedereen.

Mensen die slecht of langzaam herstellen van klachten waar een gezond persoon een veel kortere tijd voor nodig heeft komen ook in aanmerking voor de Myers Cocktail.
Bij mannen vanaf de middelbare leeftijd is een
laag testosteron-niveau

in het bloed vaak een oorzaak van trage genezing en dus hardnekkige blessures.

Aanvulling met bioidentieke testosteron

, zodat de testosteronwaarden van laag naar de hoog-normale range komen, kan een verschil van dag en nacht betekenen. Naast het normale verouderingsproces, het effect van overmatig alcoholgebruik, obesitas, slecht dieet en bewegingspatroon, zien wij met enige regelmaat ook door morfinegebruik een te laag testosteron. Deze patiënten zijn vaak goed geholpen met aanvulling naar de normale niveau's. Magnesium en Zink in de Myers Cocktail kunnen een positief effect hebben op de testosteron-spiegel maar vaak is extra aanvulling nodig.
Wat zijn de risico's ?
De Myers Cocktail is al aan miljoenen patiënten gegeven zonder grote problemen.

Dit komt door de veiligheid van de vitaminen en mineralen en de afgemeten doseringen en verhoudingen in het infuus. Geen enkele medische behandeling is geheel zonder risico, zo is er een zeer klein risico op een lokale irritatie of infectie van de plek waar we geprikt hebben. Een tip om dit te voorkomen is om genoeg water te drinken voor de behandeling zodat we makkelijk een geschikt bloedvaatje kunnen vinden.
Er zijn gevallen waar we onze behandeling op moeten aanpassen:
Patiënten met
verminderde nierfunctie

: Met een simpele aanpassing van een aantal doseringen kunnen we problemen zoals overvulling met vocht voorkomen.
Patiënten met
een lage bloeddruk

: Intraveneuze toediening van magnesium helpt erg goed om de bloeddruk te verlagen, dus als je al een lage bloeddruk hebt moeten we de doseringen aanpassen van Magnesium om een nog lagere bloeddruk te voorkomen.
Patiënten met
hartklachten of bloeddrukmedicijnen

: We houden rekening met Calcium als de patiënt calciumverlagende medicijnen zoals amlodipine, nifedipine, etc.
G-6-PD-deficientie (Favisme of bonenziekte)

is een genetische mutatie die voorkomt bij mensen van Afrikaanse of Mediterrane origine. Patiënten met deze mutatie kunnen niet tegen vitamine C en kan leiden tot hemolyse en uiteindelijk bloedarmoede. Patiënten met een G-6-PD-deficientie zijn hier in het algemeen van bewust. Patiënten met familieleden met Favisme moeten hier eerst op getest worden voordat wij U kunnen behandelen.
Referenties:
Jureidini J, McHenry L B. The illusion of evidence based medicine BMJ 2022; 376 :o702 doi:10.1136/bmj.o702
Hanin, L. Why statistical inference from clinical trials is likely to generate false and irreproducible results. BMC Med Res Methodol 17, 127 (2017). https://doi.org/10.1186/s12874-017-0399-0
Hunyady J. The Result of Vitamin C Treatment of Patients with Cancer: Conditions Influencing the Effectiveness. Int J Mol Sci. 2022 Apr 15;23(8):4380. doi: 10.3390/ijms23084380. PMID: 35457200; PMCID: PMC9030840.
Marrs C, Lonsdale D. Hiding in Plain Sight: Modern Thiamine Deficiency. Cells. 2021; 10(10):2595. https://doi.org/10.3390/cells10102595
Jonus HC, Byrnes CC, Kim J, Valle ML, Bartlett MG, Said HM, Zastre JA. Thiamine mimetics sulbutiamine and benfotiamine as a nutraceutical approach to anticancer therapy. Biomed Pharmacother. 2020 Jan;121:109648. doi: 10.1016/j.biopha.2019.109648. Epub 2019 Nov 25. PMID: 31810115.
Park J, Hosomi K, Kawashima H, Chen YA, Mohsen A, Ohno H, Konishi K, Tanisawa K, Kifushi M, Kogawa M, Takeyama H, Murakami H, Kubota T, Miyachi M, Kunisawa J, Mizuguchi K. Dietary Vitamin B1 Intake Influences Gut Microbial Community and the Consequent Production of Short-Chain Fatty Acids. Nutrients. 2022 May 16;14(10):2078. doi: 10.3390/nu14102078. PMID: 35631219; PMCID: PMC9147846.
Argano C, Mallaci Bocchio R, Natoli G, Scibetta S, Lo Monaco M, Corrao S. Protective Effect of Vitamin D Supplementation on COVID-19-Related Intensive Care Hospitalization and Mortality: Definitive Evidence from Meta-Analysis and Trial Sequential Analysis. Pharmaceuticals (Basel). 2023 Jan 16;16(1):130. doi: 10.3390/ph16010130. PMID: 36678627; PMCID: PMC9864223.
Varikasuvu SR, Thangappazham B, Vykunta A, Duggina P, Manne M, Raj H, Aloori S. COVID-19 and vitamin D (Co-VIVID study): a systematic review and meta-analysis of randomized controlled trials. Expert Rev Anti Infect Ther. 2022 Jun;20(6):907-913. doi: 10.1080/14787210.2022.2035217. Epub 2022 Feb 3. PMID: 35086394; PMCID: PMC8862170.
Pan HC, Sheu ML, Su HL, Chen YJ, Chen CJ, Yang DY, Chiu WT, Cheng FC. Magnesium supplement promotes sciatic nerve regeneration and down-regulates inflammatory response. Magnes Res. 2011 Jun;24(2):54-70. doi: 10.1684/mrh.2011.0280. PMID: 21609904.
Zhang J, Zhang B, Zhang J, Lin W, Zhang S. Magnesium Promotes the Regeneration of the Peripheral Nerve. Front Cell Dev Biol. 2021 Aug 11;9:717854. doi: 10.3389/fcell.2021.717854. PMID: 34458271; PMCID: PMC8385315.
Kodentsova VM, Zhilinskaya NV, Salagay OO, Tutelyan VA. [Specialized vitamin-mineral supplements for persons in extreme conditions]. Vopr Pitan. 2022;91(6):6-16. Russian. doi: 10.33029/0042-8833-2022-91-6-6-16. Epub 2022 Oct 10. PMID: 36648178.
Cuciureanu MD, Vink R. Magnesium and stress. In: Vink R, Nechifor M, editors. Magnesium in the Central Nervous System [Internet]. Adelaide (AU): University of Adelaide Press; 2011. Available from: https://www.ncbi.nlm.nih.gov/books/NBK507250/
Eby GA, Eby KL. Rapid recovery from major depression using magnesium treatment. Med Hypotheses. 2006;67(2):362-70. doi: 10.1016/j.mehy.2006.01.047. Epub 2006 Mar 20. PMID: 16542786.
Gesch CB, Hammond SM, Hampson SE, Eves A, Crowder MJ. Influence of supplementary vitamins, minerals and essential fatty acids on the antisocial behaviour of young adult prisoners. Randomised, placebo-controlled trial. Br J Psychiatry. 2002 Jul;181:22-8. doi: 10.1192/bjp.181.1.22. PMID: 12091259.
Schoenthaler SJ, Bier ID. The effect of vitamin-mineral supplementation on juvenile delinquency among American schoolchildren: a randomized, double-blind placebo-controlled trial. J Altern Complement Med. 2000 Feb;6(1):7-17. doi: 10.1089/acm.2000.6.7. PMID: 10706231.
Zdzieblik D, Jendricke P, Oesser S, Gollhofer A, König D. The Influence of Specific Bioactive Collagen Peptides on Body Composition and Muscle Strength in Middle-Aged, Untrained Men: A Randomized Controlled Trial. Int J Environ Res Public Health. 2021 Apr 30;18(9):4837. doi: 10.3390/ijerph18094837. PMID: 33946565; PMCID: PMC8125453.
Leidig-Bruckner G, Roth HJ, Bruckner T, Lorenz A, Raue F, Frank-Raue K. Are commonly recommended dosages for vitamin D supplementation too low? Vitamin D status and effects of supplementation on serum 25-hydroxyvitamin D levels–an observational study during clinical practice conditions. Osteoporos Int. 2011 Jan;22(1):231-40. doi: 10.1007/s00198-010-1214-5. Epub 2010 Jun 17. PMID: 20556359.
Noriega-González DC, Drobnic F, Caballero-García A, Roche E, Perez-Valdecantos D, Córdova A. Effect of Vitamin C on Tendinopathy Recovery: A Scoping Review. Nutrients. 2022 Jun 27;14(13):2663. doi: 10.3390/nu14132663. PMID: 35807843; PMCID: PMC9267994.
Feehan O, Armstrong DJ, Magee PJ, Pourshahidi KL, Strain JJ, Beggan L, Cobice DF, McSorley EM. Vitamin D and Bone Health of Older Adults within Care Homes: An Observational Study. Nutrients. 2022 Jun 28;14(13):2680. doi: 10.3390/nu14132680. PMID: 35807859; PMCID: PMC9268702.
Khatri M, Naughton RJ, Clifford T, Harper LD, Corr L. The effects of collagen peptide supplementation on body composition, collagen synthesis, and recovery from joint injury and exercise: a systematic review. Amino Acids. 2021 Oct;53(10):1493-1506. doi: 10.1007/s00726-021-03072-x. Epub 2021 Sep 7. PMID: 34491424; PMCID: PMC8521576.
Kirmse M, Oertzen-Hagemann V, de Marées M, Bloch W, Platen P. Prolonged Collagen Peptide Supplementation and Resistance Exercise Training Affects Body Composition in Recreationally Active Men. Nutrients. 2019 May 23;11(5):1154. doi: 10.3390/nu11051154. PMID: 31126103; PMCID: PMC6566878.
Kjaer M, Frederiksen AKS, Nissen NI, Willumsen N, van Hall G, Jorgensen LN, Andersen JR, Ågren MS. Multinutrient Supplementation Increases Collagen Synthesis during Early Wound Repair in a Randomized Controlled Trial in Patients with Inguinal Hernia. J Nutr. 2020 Apr 1;150(4):792-799. doi: 10.1093/jn/nxz324. PMID: 31897483.
Ellinger S, Stehle P. Efficacy of vitamin supplementation in situations with wound healing disorders: results from clinical intervention studies. Curr Opin Clin Nutr Metab Care. 2009 Nov;12(6):588-95. doi: 10.1097/MCO.0b013e328331a5b5. PMID: 19770648.
Desneves KJ, Todorovic BE, Cassar A, Crowe TC. Treatment with supplementary arginine, vitamin C and zinc in patients with pressure ulcers: a randomised controlled trial. Clin Nutr. 2005 Dec;24(6):979-87. doi: 10.1016/j.clnu.2005.06.011. Epub 2005 Nov 15. PMID: 16297506.
Pullar JM, Carr AC, Vissers MCM. The Roles of Vitamin C in Skin Health. Nutrients. 2017 Aug 12;9(8):866. doi: 10.3390/nu9080866. PMID: 28805671; PMCID: PMC5579659.
Ravindran P, Wiltshire S, Das K, Wilson RB. Vitamin C deficiency in an Australian cohort of metropolitan surgical patients. Pathology. 2018 Oct;50(6):654-658. doi: 10.1016/j.pathol.2018.07.004. Epub 2018 Aug 31. Erratum in: Pathology. 2018 Dec;50(7):793. PMID: 30177219.
Gunton JE, Girgis CM, Lau T, Vicaretti M, Begg L, Flood V. Vitamin C improves healing of foot ulcers: a randomised, double-blind, placebo-controlled trial. Br J Nutr. 2021 Nov 28;126(10):1451-1458. doi: 10.1017/S0007114520003815. Epub 2020 Sep 28. PMID: 32981536.
Bechara N, Flood VM, Gunton JE. A Systematic Review on the Role of Vitamin C in Tissue Healing. Antioxidants (Basel). 2022 Aug 19;11(8):1605. doi: 10.3390/antiox11081605. PMID: 36009324; PMCID: PMC9405326.
Kviatkovsky SA, Hickner RC, Ormsbee MJ. Collagen peptide supplementation for pain and function: is it effective and if so, why? Curr Opin Clin Nutr Metab Care. 2022 Sep 1. doi: 10.1097/MCO.0000000000000870. Epub ahead of print. PMID: 36044324.
Macian N, Dualé C, Voute M, Leray V, Courrent M, Bodé P, Giron F, Sonneville S, Bernard L, Joanny F, Menard K, Ducheix G, Pereira B, Pickering G. Short-Term Magnesium Therapy Alleviates Moderate Stress in Patients with Fibromyalgia: A Randomized Double-Blind Clinical Trial. Nutrients. 2022 May 17;14(10):2088. doi: 10.3390/nu14102088. PMID: 35631229; PMCID: PMC9145501.
McMullin PR, Hynes AT, Arefin MA, Saeed M, Gandhavadi S, Arefin N, Eckmann MS. Infusion Therapy in the Treatment of Neuropathic Pain. Curr Pain Headache Rep. 2022 Jul 6. doi: 10.1007/s11916-022-01071-5. Epub ahead of print. PMID: 35794449.
Sohn HM, Ahn H, Seo WS, Yi IK, Park JY. Magnesium Sulfate and Cerebral Oxygen Saturation in Mild Traumatic Brain Injury: A Randomized, Double-Blind, Controlled Trial. J Clin Med. 2022 Jun 13;11(12):3388. doi: 10.3390/jcm11123388. PMID: 35743456; PMCID: PMC9225065.
Derbel R, Achour I, Thabet W, Chakroun A, Zouch I, Charfeddine I. Addition of magnesium sulfate to bupivacaine improves analgesic efficacy after tonsillectomy: A randomized trial and a CONSORT analysis. Eur Ann Otorhinolaryngol Head Neck Dis. 2022 Jun 7:S1879-7296(22)00059-X. doi: 10.1016/j.anorl.2022.04.007. Epub ahead of print. PMID: 35688677.
Matin H, Taghian F, Chitsaz A. Artificial intelligence analysis to explore synchronize exercise, cobalamin, and magnesium as new actors to therapeutic of migraine symptoms: a randomized, placebo-controlled trial. Neurol Sci. 2022 Jul;43(7):4413-4424. doi: 10.1007/s10072-021-05843-6. Epub 2022 Feb 3. PMID: 35112219.
Kakehashi T, Obayashi M, Watanabe J. Appraisal of intravenous magnesium sulfate vs. morphine sulfate in relieving renal colic: A randomized clinical trial. Am J Emerg Med. 2022 Jul;57:174. doi: 10.1016/j.ajem.2021.12.018. Epub 2021 Dec 15. PMID: 34949475.
Kulik K, Żyżyńska-Granica B, Kowalczyk A, Kurowski P, Gajewska M, Bujalska-Zadrożny M. Magnesium and Morphine in the Treatment of Chronic Neuropathic Pain-A Biomedical Mechanism of Action. Int J Mol Sci. 2021 Dec 18;22(24):13599. doi: 10.3390/ijms222413599. PMID: 34948397; PMCID: PMC8707930.
Choi GJ, Kim YI, Koo YH, Oh HC, Kang H. Perioperative Magnesium for Postoperative Analgesia: An Umbrella Review of Systematic Reviews and Updated Meta-Analysis of Randomized Controlled Trials. J Pers Med. 2021 Dec 2;11(12):1273. doi: 10.3390/jpm11121273. PMID: 34945745; PMCID: PMC8708823.
Zhang J, Mai CL, Xiong Y, Lin ZJ, Jie YT, Mai JZ, Liu C, Xie MX, Zhou X, Liu XG. The Causal Role of Magnesium Deficiency in the Neuroinflammation, Pain Hypersensitivity and Memory/Emotional Deficits in Ovariectomized and Aged Female Mice. J Inflamm Res. 2021 Dec 7;14:6633-6656. doi: 10.2147/JIR.S330894. PMID: 34908863; PMCID: PMC8665878.
Barna O, Lohoida P, Holovchenko Y, Bazylevych A, Velychko V, Hovbakh I, Bula L, Shechter M. A randomized, double-blind, placebo-controlled, multicenter study assessing the efficacy of magnesium oxide monohydrate in the treatment of nocturnal leg cramps. Nutr J. 2021 Oct 31;20(1):90. doi: 10.1186/s12937-021-00747-9. PMID: 34719399; PMCID: PMC8559389.
Sohn HM, Kim BY, Bae YK, Seo WS, Jeon YT. Magnesium Sulfate Enables Patient Immobilization during Moderate Block and Ameliorates the Pain and Analgesic Requirements in Spine Surgery, Which Can Not Be Achieved with Opioid-Only Protocol: A Randomized Double-Blind Placebo-Controlled Study. J Clin Med. 2021 Sep 22;10(19):4289. doi: 10.3390/jcm10194289. PMID: 34640307; PMCID: PMC8509453.
Park JW, Kim EK, Lee J, Chung SH, Boo G, Do SH. Effect of Intraoperative Magnesium Sulfate Administration on Blood Glucose Control following Total Joint Arthroplasty in Patients with Diabetes. J Clin Med. 2022 May 27;11(11):3040. doi: 10.3390/jcm11113040. PMID: 35683428; PMCID: PMC9181658.
Macian N, Dualé C, Voute M, Leray V, Courrent M, Bodé P, Giron F, Sonneville S, Bernard L, Joanny F, Menard K, Ducheix G, Pereira B, Pickering G. Short-Term Magnesium Therapy Alleviates Moderate Stress in Patients with Fibromyalgia: A Randomized Double-Blind Clinical Trial. Nutrients. 2022 May 17;14(10):2088. doi: 10.3390/nu14102088. PMID: 35631229; PMCID: PMC9145501.
Noah L, Morel V, Bertin C, Pouteau E, Macian N, Dualé C, Pereira B, Pickering G. Effect of a Combination of Magnesium, B Vitamins, Rhodiola, and Green Tea (L-Theanine) on Chronically Stressed Healthy Individuals-A Randomized, Placebo-Controlled Study. Nutrients. 2022 Apr 29;14(9):1863. doi: 10.3390/nu14091863. PMID: 35565828; PMCID: PMC9102162.
Kamel AAF, Medhat MM, Salem DAE, Naby SMA. Effect of perioperative magnesium sulfate and labetalol infusion on peripheral perfusion and postoperative pain in nasal surgery: a randomized controlled trial. Patient Saf Surg. 2022 Aug 19;16(1):27. doi: 10.1186/s13037-022-00336-7. PMID: 35986325; PMCID: PMC9392252.
Leitch J, Webb A, Pudwell J, Chamberlain S, Henry R, Nitsch R. Magnesium-Based Trigger Point Infiltrations Versus Local Anaesthetic Infiltrations in Chronic Pelvic Myofascial Pain: A Randomized, Double-Blind, Controlled Study. J Obstet Gynaecol Can. 2022 Aug;44(8):877-885. doi: 10.1016/j.jogc.2022.02.129. Epub 2022 Mar 24. PMID: 35339694.
Yazdi AP, Esmaeeli M, Gilani MT. Effect of intravenous magnesium on postoperative pain control for major abdominal surgery: a randomized double-blinded study. Anesth Pain Med (Seoul). 2022 Jul;17(3):280-285. doi: 10.17085/apm.22156. Epub 2022 Jul 28. PMID: 35918860; PMCID: PMC9346203.
Fathy W, Hussein M, Ibrahim RE, Abdel-Aziz MM, Adel S, Soliman SH, Elmoutaz H, Abdelkader M. Comparative effect of transforaminal injection of Magnesium sulphate versus Ozone on oxidative stress biomarkers in lumbar disc related radicular pain. BMC Anesthesiol. 2022 Aug 8;22(1):254. doi: 10.1186/s12871-022-01789-0. PMID: 35941548; PMCID: PMC9358797.
Bahrampour N, Clark CCT. The relationship between dietary acid load and intensity of musculoskeletal pain condition: A population-based study. Food Sci Nutr. 2022 Apr 5;10(8):2542-2549. doi: 10.1002/fsn3.2859. PMID: 35959275; PMCID: PMC9361435.
Bahrampour N, Rasaei N, Gholami F, Clark CCT. The Association Between Dietary Energy Density and Musculoskeletal Pain in Adult Men and Women. Clin Nutr Res. 2022 Apr 26;11(2):110-119. doi: 10.7762/cnr.2022.11.2.110. PMID: 35559001; PMCID: PMC9065393.
Heath AK, Muller DC, van den Brandt PA, Critselis E, Gunter M, Vineis P, Weiderpass E, Boeing H, Ferrari P, Merritt MA, Rostgaard-Hansen AL, Tjønneland A, Overvad K, Katzke V, Srour B, Masala G, Sacerdote C, Ricceri F, Pasanisi F, Bueno-de-Mesquita B, Downward GS, Skeie G, Sandanger TM, Crous-Bou M, Rodríguez-Barranco M, Amiano P, Huerta JM, Ardanaz E, Drake I, Johansson M, Johansson I, Key T, Papadimitriou N, Riboli E, Tzoulaki I, Tsilidis KK. Diet-wide association study of 92 foods and nutrients and lung cancer risk in the European Prospective Investigation into Cancer and Nutrition study and the Netherlands Cohort Study. Int J Cancer. 2022 Jul 13. doi: 10.1002/ijc.34211. Epub ahead of print. PMID: 35830197.
El Driny WA, Esmat IM, Shaheen SM, Sabri NA. Efficacy of High-Dose Vitamin C Infusion on Outcomes in Sepsis Requiring Mechanical Ventilation: A Double-Blind Randomized Controlled Trial. Anesthesiol Res Pract. 2022 Jul 15;2022:4057215. doi: 10.1155/2022/4057215. PMID: 35873893; PMCID: PMC9307402.
Tang X, Liu H, Xiao Y, Wu L, Shu P. Vitamin C Intake and Ischemic Stroke. Front Nutr. 2022 Jul 14;9:935991. doi: 10.3389/fnut.2022.935991. PMID: 35911106; PMCID: PMC9330473.
Honore PM, Blackman S, Bousbiat I, Perriens E, Attou R. Up to 100 g of Intravenous Vitamin C Appears to be Safe and Elicits No Adverse Effects but Needs Further Evaluation in High-Risk Groups. Clin Pharmacokinet. 2022 Jul 30. doi: 10.1007/s40262-022-01156-9. Epub ahead of print. PMID: 35908007.
Park SK, Chung Y, Oh CM, Ryoo JH, Jung JY. The influence of dietary intake of vitamin C and vitamin E on the risk of gastric intestinal metaplasia. Epidemiol Health. 2022 Jul 29:e2022062. doi: 10.4178/epih.e2022062. Epub ahead of print. PMID: 35914770.
Jankowski CSR, Rabinowitz JD. Selenium modulates cancer cell response to pharmacologic ascorbate. Cancer Res. 2022 Aug 2:CAN-22-0408. doi: 10.1158/0008-5472.CAN-22-0408. Epub ahead of print. PMID: 35916672.
Nikooseresht M, Hajian P, Moradi A, Sanatkar M. Evaluation of the Effects of Oral Magnesium Sachet on the Prevention of Spinal Anesthesia-Induced Headache After Cesarean Section: A Randomized Clinical Trial. Anesth Pain Med. 2022 Mar 22;12(1):e121834. doi: 10.5812/aapm.121834. PMID: 35433384; PMCID: PMC8995875.
Rossi RE, Chen J, Caplin ME. The Role of Diet and Supplements in the Prevention and Progression of COVID-19: Current Knowledge and Open Issues. Prev Nutr Food Sci. 2022 Jun 30;27(2):137-149. doi: 10.3746/pnf.2022.27.2.137. PMID: 35919576; PMCID: PMC9309075.
Schöller A, Géraud C. Hautveränderungen bei Vitamin- und Mineralstoffmangel [Dermatologic manifestations of vitamin and mineral deficiency]. Dermatologie (Heidelb). 2022 Aug;73(8):647-655. German. doi: 10.1007/s00105-022-05029-x. Epub 2022 Jul 14. PMID: 35925237.
Luo X, Ng C, He J, Yang M, Luo X, Herbert TP, Whitehead JP. Vitamin C protects against hypoxia, inflammation, and ER stress in primary human preadipocytes and adipocytes. Mol Cell Endocrinol. 2022 Aug 4;556:111740. doi: 10.1016/j.mce.2022.111740. Epub ahead of print. PMID: 35932980.
Bhowmik KK, Barek MA, Aziz MA, Islam MS. Impact of high-dose vitamin C on the mortality, severity, and duration of hospital stay in COVID-19 patients: A meta-analysis. Health Sci Rep. 2022 Aug 8;5(5):e762. doi: 10.1002/hsr2.762. PMID: 35949675; PMCID: PMC9358542.
Zhu H, Xu X, Zhang K, Ye Q. The effect of intravenous vitamin C on clinical outcomes in patients with sepsis or septic shock: A meta-analysis of randomized controlled trials. Front Nutr. 2022 Jul 28;9:964484. doi: 10.3389/fnut.2022.964484. PMID: 35967816; PMCID: PMC9366349.
Zhang W, Jiang J, He Y, Li X, Yin S, Chen F, Li W. Association between vitamins and risk of brain tumors: A systematic review and dose-response meta-analysis of observational studies. Front Nutr. 2022 Jul 29;9:935706. doi: 10.3389/fnut.2022.935706. PMID: 35967781; PMCID: PMC9372437.
Al-Hayder MN, Aledani THW, Al-Mayyahi RS. Amelioration of the hepatotoxic effects of nonsteroidal drugs using vitamin C and determination of their relationship with the lipid profile. J Taibah Univ Med Sci. 2021 Dec 13;17(4):715-723. doi: 10.1016/j.jtumed.2021.11.003. PMID: 35983440; PMCID: PMC9356344.
Larsson SC, Mason AM, Vithayathil M, Carter P, Kar S, Zheng JS, Burgess S. Circulating vitamin C and digestive system cancers: Mendelian randomization study. Clin Nutr. 2022 Aug 7;41(9):2031-2035. doi: 10.1016/j.clnu.2022.07.040. Epub ahead of print. PMID: 35986965.
Rozemeijer S, de Grooth HJ, Elbers PWG, Girbes ARJ, den Uil CA, Dubois EA, Wils EJ, Rettig TCD, van Zanten ARH, Vink R, van den Bogaard B, Bosman RJ, Oudemans-van Straaten HM, de Man AME. Early high-dose vitamin C in post-cardiac arrest syndrome (VITaCCA): study protocol for a randomized, double-blind, multi-center, placebo-controlled trial. Trials. 2021 Aug 18;22(1):546. doi: 10.1186/s13063-021-05483-3. PMID: 34407846; PMCID: PMC8371424.
Böttger F, Vallés-Martí A, Cahn L, Jimenez CR. High-dose intravenous vitamin C, a promising multi-targeting agent in the treatment of cancer. J Exp Clin Cancer Res. 2021 Oct 30;40(1):343. doi: 10.1186/s13046-021-02134-y. PMID: 34717701; PMCID: PMC8557029.
Boretti A, Banik BK. Intravenous Vitamin C for reduction of cytokines storm in Acute Respiratory Distress Syndrome [published online ahead of print, 2020 Apr 21]. PharmaNutrition. 2020;12:100190. doi:10.1016/j.phanu.2020.100190
Grant WB, Lahore H, McDonnell SL, Baggerly CA, French CB, Aliano JL, Bhattoa
HP. Evidence that Vitamin D Supplementation Could Reduce Risk of Influenza and
COVID-19 Infections and Deaths. Nutrients. 2020 Apr 2;12(4). pii: E988. doi:
10.3390/nu12040988. Review. PubMed PMID: 32252338.

Martineau AR, Jolliffe DA, Greenberg L, et al. Vitamin D supplementation to prevent acute respiratory infections: individual participant data meta-analysis. Health Technol Assess. 2019;23(2):1–44. doi:10.3310/hta23020
Prietl B, Treiber G, Pieber TR, Amrein K. Vitamin D and immune function. Nutrients. 2013;5(7):2502–2521. Published 2013 Jul 5. doi:10.3390/nu5072502
Medrano M, Carrillo-Cruz E, Montero I, Perez-Simon JA. Vitamin D: Effect on Haematopoiesis and Immune System and Clinical Applications. Int J Mol Sci. 2018;19(9):2663. Published 2018 Sep 8. doi:10.3390/ijms19092663
Bitetto D, Fabris C, Fornasiere E, et al. Vitamin D supplementation improves response to antiviral treatment for recurrent hepatitis C. Transpl Int. 2011;24(1):43–50. doi:10.1111/j.1432-2277.2010.01141.x
Yokoyama S, Takahashi S, Kawakami Y, et al. Effect of vitamin D supplementation on pegylated interferon/ribavirin therapy for chronic hepatitis C genotype 1b: a randomized controlled trial. J Viral Hepat. 2014;21(5):348–356. doi:10.1111/jvh.12146
Coelho L, Cardoso SW, Luz PM, et al. Vitamin D3 supplementation in HIV infection: effectiveness and associations with antiretroviral therapy. Nutr J. 2015;14:81. Published 2015 Aug 18. doi:10.1186/s12937-015-0072-6
Saper RB, Rash R. Zinc: an essential micronutrient. Am Fam Physician. 2009;79(9):768–772.
Barnett JB, Hamer DH, Meydani SN. Low zinc status: a new risk factor for pneumonia in the elderly?. Nutr Rev. 2010;68(1):30–37. doi:10.1111/j.1753-4887.2009.00253.x
Wessels I, Maywald M, Rink L. Zinc as a Gatekeeper of Immune Function. Nutrients. 2017;9(12):1286. Published 2017 Nov 25. doi:10.3390/nu9121286
Prasad AS. Zinc: role in immunity, oxidative stress and chronic inflammation. Curr Opin Clin Nutr Metab Care. 2009;12(6):646–652. doi:10.1097/MCO.0b013e3283312956
Martinez-Estevez NS, Alvarez-Guevara AN, Rodriguez-Martinez CE. Effects of zinc supplementation in the prevention of respiratory tract infections and diarrheal disease in Colombian children: A 12-month randomised controlled trial. Allergol Immunopathol (Madr). 2016;44(4):368–375. doi:10.1016/j.aller.2015.12.006
Rerksuppaphol S, Rerksuppaphol L. A randomized controlled trial of zinc supplementation in the treatment of acute respiratory tract infection in Thai children. Pediatr Rep. 2019;11(2):7954. Published 2019 May 23. doi:10.4081/pr.2019.7954
Hemilä H. Zinc lozenges and the common cold: a meta-analysis comparing zinc acetate and zinc gluconate, and the role of zinc dosage. JRSM Open. 2017;8(5):2054270417694291. Published 2017 May 2. doi:10.1177/2054270417694291
Liguori I, Russo G, Curcio F, et al. Oxidative stress, aging, and diseases. Clin Interv Aging. 2018;13:757–772. Published 2018 Apr 26. doi:10.2147/CIA.S158513
Carr AC, Maggini S. Vitamin C and Immune Function. Nutrients. 2017;9(11):1211. Published 2017 Nov 3. doi:10.3390/nu9111211
Hemilä H, Chalker E. Vitamin C for preventing and treating the common cold. Cochrane Database Syst Rev. 2013;(1):CD000980. Published 2013 Jan 31. doi:10.1002/14651858.CD000980.pub4
Bucher A, White N. Vitamin C in the Prevention and Treatment of the Common Cold. Am J Lifestyle Med. 2016;10(3):181–183. Published 2016 Feb 9. doi:10.1177/1559827616629092
Li J. Evidence is stronger than you think: a meta-analysis of vitamin C use in patients with sepsis. Crit Care. 2018;22(1):258. Published 2018 Oct 11. doi:10.1186/s13054-018-2191-x
Fowler Iii AA, Kim C, Lepler L, et al. Intravenous vitamin C as adjunctive therapy for enterovirus/rhinovirus induced acute respiratory distress syndrome. World J Crit Care Med. 2017;6(1):85–90. Published 2017 Feb 4. doi:10.5492/wjccm.v6.i1.85
Maggini S, Pierre A, Calder PC. Immune Function and Micronutrient Requirements Change over the Life Course. Nutrients. 2018;10(10):1531. Published 2018 Oct 17. doi:10.3390/nu10101531
Ali A, Njike VY, Northrup V, Sabina AB, Williams AL, Liberti LS, Perlman AI,
Adelson H, Katz DL. Intravenous micronutrient therapy (Myers' Cocktail) for
fibromyalgia: a placebo-controlled pilot study. J Altern Complement Med. 2009
Mar;15(3):247-57. doi: 10.1089/acm.2008.0410. PubMed PMID: 19250003; PubMed
Central PMCID: PMC2894814.
Forman HJ, Zhang H, Rinna A. Glutathione: overview of its protective roles,
measurement, and biosynthesis. Mol Aspects Med. 2009 Feb-Apr;30(1-2):1-12. doi:
10.1016/j.mam.2008.08.006. Epub 2008 Aug 30. Review. PubMed PMID: 18796312;
PubMed Central PMCID: PMC2696075.
Schulz JB, Lindenau J, Seyfried J, Dichgans J. Glutathione, oxidative stress
and neurodegeneration. Eur J Biochem. 2000 Aug;267(16):4904-11. Review. PubMed
PMID: 10931172.
Viña J, Gomez-Cabrera MC, Lloret A, Marquez R, Miñana JB, Pallardó FV, Sastre 
J. Free radicals in exhaustive physical exercise: mechanism of production, and
protection by antioxidants. IUBMB Life. 2000 Oct-Nov;50(4-5):271-7. Review.
PubMed PMID: 11327321.
Reed JC. Magnesium therapy in musculoskeletal pain syndromes — retrospective review of clinical results. Magnes Trace Elem 1990;9:330.
Shealy CN, Cady RK, Veehoff D, et al. Magnesium deficiency in depression and chronic pain. Magnes Trace Elem 1990;9:333.
Plotnikoff GA, Quigley JM. Prevalence of severe hypovitaminosis D in patients 
with persistent, nonspecific musculoskeletal pain. Mayo Clin Proc. 2003
Dec;78(12):1463-70. PubMed PMID: 14661675.
Snyder PJ, Bhasin S, Cunningham GR, Matsumoto AM, Stephens-Shields AJ, Cauley 
JA, Gill TM, Barrett-Connor E, Swerdloff RS, Wang C, Ensrud KE, Lewis CE, Farrar 
JT, Cella D, Rosen RC, Pahor M, Crandall JP, Molitch ME, Cifelli D, Dougar D,
Fluharty L, Resnick SM, Storer TW, Anton S, Basaria S, Diem SJ, Hou X, Mohler ER 
3rd, Parsons JK, Wenger NK, Zeldow B, Landis JR, Ellenberg SS; Testosterone
Trials Investigators.. Effects of Testosterone Treatment in Older Men. N Engl J
Med. 2016 Feb 18;374(7):611-24. doi: 10.1056/NEJMoa1506119. PubMed PMID:
26886521.
van Leeuwen R, Boekhoorn S, Vingerling JR, Witteman JC, Klaver CC, Hofman A,
de Jong PT. Dietary intake of antioxidants and risk of age-related macular
degeneration. JAMA. 2005 Dec 28;294(24):3101-7. PubMed PMID: 16380590.
Knekt P, Ritz J, Pereira MA, O'Reilly EJ, Augustsson K, Fraser GE, Goldbourt
U, Heitmann BL, Hallmans G, Liu S, Pietinen P, Spiegelman D, Stevens J, Virtamo
J, Willett WC, Rimm EB, Ascherio A. Antioxidant vitamins and coronary heart
disease risk: a pooled analysis of 9 cohorts. Am J Clin Nutr. 2004
Dec;80(6):1508-20. PubMed PMID: 15585762.
Myint PK, Luben RN, Welch AA, Bingham SA, Wareham NJ, Khaw KT. Plasma vitamin 
C concentrations predict risk of incident stroke over 10 y in 20 649 participants
of the European Prospective Investigation into Cancer Norfolk prospective
population study. Am J Clin Nutr. 2008 Jan;87(1):64-9. PubMed PMID: 18175738.


Steinbrenner H, Al-Quraishy S, Dkhil MA, Wunderlich F, Sies H. Dietary selenium in adjuvant therapy of viral and bacterial infections. Adv Nutr. 2015;6(1):73–82. Published 2015 Jan 15. doi:10.3945/an.114.007575
Lin Z, Li Y, Gong G, et al. Restriction of H1N1 influenza virus infection by selenium nanoparticles loaded with ribavirin via resisting caspase-3 apoptotic pathway. Int J Nanomedicine. 2018;13:5787–5797. Published 2018 Sep 26. doi:10.2147/IJN.S177658
Qian B, Shen S, Zhang J, Jing P. Effects of Vitamin B6 Deficiency on the Composition and Functional Potential of T Cell Populations. J Immunol Res. 2017;2017:2197975. doi:10.1155/2017/2197975
Case HS (2018) Vitamin C questions answered. Orthomolecular Medicine News Service, http://orthomolecular.org/resources/omns/v14n12.shtml.
Gonzalez MJ, Berdiel MJ, Duconge J (2018) High dose vitamin C and influenza: A case report. J Orthomol Med. June, 2018, 33(3). https://isom.ca/article/high-dose-vitamin-c-influenza-case-report.
Gorton HC, Jarvis K (1999) The effectiveness of vitamin C in preventing and relieving the symptoms of virus-induced respiratory infections. J Manip Physiol Ther, 22:8, 530-533. https://www.ncbi.nlm.nih.gov/pubmed/10543583
Hemilä H (2017) Vitamin C and infections. Nutrients. 9(4). pii:E339. https://www.ncbi.nlm.nih.gov/pubmed/28353648.
Hickey S, Saul AW (2015) Vitamin C: The real story. Basic Health Pub. ISBN-13: 978-1591202233.
Levy TE (2014) The clinical impact of vitamin C. Orthomolecular Medicine News Service, http://orthomolecular.org/resources/omns/v10n14.shtml
OMNS (2007) Vitamin C: a highly effective treatment for colds. http://orthomolecular.org/resources/omns/v03n05.shtml.
OMNS (2009) Vitamin C as an antiviral http://orthomolecular.org/resources/omns/v05n09.shtml.
Taylor T (2017) Vitamin C material: where to start, what to watch. OMNS, http://www.orthomolecular.org/resources/omns/v13n20.shtml.
Yejin Kim, Hyemin Kim, Seyeon Bae et al. (2013) Vitamin C is an essential factor on the anti-viral immune responses through the production of interferon-α/β at the initial stage of influenza A virus (H3N2) infection. Immune Netw. 13:70-74. https://www.ncbi.nlm.nih.gov/pubmed/23700397.
Cannell JJ, Vieth R, Umhau JC et al. (2006) Epidemic influenza and vitamin D. Epidemiol Infect. 134:1129-1140. https://www.ncbi.nlm.nih.gov/pubmed/16959053.
Cannell JJ, Zasloff M, Garland CF et al. (2008) On the epidemiology of influenza. Virol J. 5:29. https://www.ncbi.nlm.nih.gov/pubmed/16959053.
Ginde AA, Mansbach JM, Camargo CA Jr. (2009) Association between serum 25-hydroxyvitamin D level and upper respiratory tract infection in the Third National Health and Nutrition Examination Survey. Arch Intern Med. 169:384-390. https://www.ncbi.nlm.nih.gov/pubmed/19237723.
Martineau AR, Jolliffe DA, Hooper RL et al. (2017) Vitamin D supplementation to prevent acute respiratory tract infections: systematic review and meta-analysis of individual participant data. BMJ. 356:i6583. https://www.ncbi.nlm.nih.gov/pubmed/28202713.
Urashima M, Segawa T, Okazaki M et al. (2010) Randomized trial of vitamin D supplementation to prevent seasonal influenza A in schoolchildren. Am J Clin Nutr. 91:1255-60. https://www.ncbi.nlm.nih.gov/pubmed/20219962.
von Essen MR, Kongsbak M, Schjerling P et al. (2010) Vitamin D controls T cell antigen receptor signaling and activation of human T cells. Nat Immunol. 11:344-349. https://www.ncbi.nlm.nih.gov/pubmed/20208539.
Fraker PJ, King LE, Laakko T, Vollmer TL. (2000) The dynamic link between the integrity of the immune system and zinc status. J Nutr. 130:1399S-406S. https://www.ncbi.nlm.nih.gov/pubmed/10801951.
Liu MJ, Bao S, Gálvez-Peralta M, et al. (2013) ZIP8 regulates host defense through zinc-mediated inhibition of NF-кB. Cell Rep. 3:386-400. https://www.ncbi.nlm.nih.gov/pubmed/23403290.
Mocchegiani E, Muzzioli M. (2000) Therapeutic application of zinc in human immunodeficiency virus against opportunistic infections. J Nutr. 130:1424S-1431S. https://www.ncbi.nlm.nih.gov/pubmed/10801955.
Shankar AH, Prasad AS. (1998) Zinc and immune function: the biological basis of altered resistance to infection. Am J Clin Nutr. 68:447S-463S. https://www.ncbi.nlm.nih.gov/pubmed/9701160.
Beck MA, Levander OA, Handy J. (2003) Selenium deficiency and viral infection. J Nutr. 133:1463S-1467S. https://www.ncbi.nlm.nih.gov/pubmed/12730444.
Hoffmann PR, Berry MJ. (2008) The influence of selenium on immune responses. Mol Nutr Food Res. 52:1273-1280. https://www.ncbi.nlm.nih.gov/pubmed/18384097.
Steinbrenner H, Al-Quraishy S, Dkhil MA et al. (2015) Dietary selenium in adjuvant therapy of viral and bacterial infections. Adv Nutr. 6:73-82. https://www.ncbi.nlm.nih.gov/pubmed/25593145.
Hemilä H, Chalker E. Vitamin C for preventing and treating the common cold.
Cochrane Database Syst Rev. 2013 Jan 31;(1):CD000980. doi:
10.1002/14651858.CD000980.pub4. Review. PubMed PMID: 23440782.

Righi NC, Schuch FB, De Nardi AT, Pippi CM, de Almeida Righi G, Puntel GO, da 
Silva AMV, Signori LU. Effects of vitamin C on oxidative stress, inflammation,
muscle soreness, and strength following acute exercise: meta-analyses of
randomized clinical trials. Eur J Nutr. 2020 Mar 11. doi:
10.1007/s00394-020-02215-2. [Epub ahead of print] Review. PubMed PMID: 32162041.


Kim TK, Lim HR, Byun JS. Vitamin C supplementation reduces the odds of
developing a common cold in Republic of Korea Army recruits: randomised
controlled trial. BMJ Mil Health. 2020 Mar 5. pii: bmjmilitary-2019-001384. doi: 
10.1136/bmjmilitary-2019-001384. [Epub ahead of print] PubMed PMID: 32139409.

Hawkins J, Baker C, Cherry L, Dunne E. Black elderberry (Sambucus nigra) supplementation effectively treats upper respiratory symptoms: A meta-analysis of randomized, controlled clinical trials. Complement Ther Med. 2019;42:361–365. doi:10.1016/j.ctim.2018.12.004


Hercberg S, Galan P, Preziosi P, Bertrais S, Mennen L, Malvy D, Roussel AM,
Favier A, Briançon S. The SU.VI.MAX Study: a randomized, placebo-controlled trial
of the health effects of antioxidant vitamins and minerals. Arch Intern Med. 2004
Nov 22;164(21):2335-42. Erratum in: Arch Intern Med. 2005 Feb 14;165(3):286.
PubMed PMID: 15557412.